DMACC Spring Semester in England
DMACC offers students an opportunity to take selected classes during the Spring semester London Study Abroad Program. Students enjoy 8 weeks—yes, 8 weeks!—in London studying with a DMACC professor.
The program is a regular DMACC Spring semester compressed into 10 weeks. Students will start taking classes at the beginning of February at the Ankeny Campus and then in mid February will travel to London to spend 8 weeks living with British families while continuing with their DMACC program.
In the past, students have taken classes in composition, speech, history, literature, and the humanities, but specific course offerings are announced once the lead professor is selected. Additionally, British professors and scholars at the University of London offer "British Life and Culture," an essential lecture and fieldtrip series, covering such topics as the Monarchy and the Royal Family, World War II and the Blitz, and the History of London.
Classes are held at the University of London in the center of the city. In addition to lectures and class discussions, students tour museums, visit historic places, and attend live theatre performances in London and the surrounding area. For a real sense of living in London, students reside with British families.
Students enroll for twelve DMACC credits, which may include some independent study, one online course, and internships. Financial aid is available for study abroad. Program arrangements are made in conjunction with the American Institute for Foreign Study, specializing in study abroad programs for colleges and universities, which has an office in London. Join us for a life-changing experience!
Contacts for General Information
Bethany Sweeney
Study Abroad Coordinator
Des Moines Area Community College
Carroll Campus, Room 170
906 North Grant Rd.
Carroll, IA 51401
Phone: 862-354-3117
Email: besweeney@dmacc.edu
Maria Cochran
2024 London Instructor
Des Moines Area Community College
2006 S. Ankeny Boulevard
Ankeny, IA 50023-8995
Building 2; Room 5BB
Phone: 515-964-6482
Email: mecochran@dmacc.edu
---
International Travel/Study Courses
DMACC faculty in a range of disciplines have traveled extensively, lived, or studied in countries around the globe. Wishing to share their interest in and expertise of a particular country or region of the world, these faculty members arrange international travel and travel/study opportunities for students.
Since the tours are educational travel, students may receive academic credit on designated trips. These international travel/study programs permit students to spend one or two weeks exploring a country, with additional time spent back home to read, write, and reflect about the country they have experienced. Most travel/ study courses are independent study credits issued under a GLOS (global studies) acronym.
For information on the international travel/study courses, please contact Maura Nelson, Global Education Chair, at 515-965-7032 or email mgnelson@dmacc.edu
---
Homestays
When in London, students stay with the British families. This arrangement provides them with a first-hand experience of the new culture and an opportunity to make new friends.
Most homestays are located in West London in a residential neighborhood, 40-45 minutes commute from the Taylor House, where most classes take place.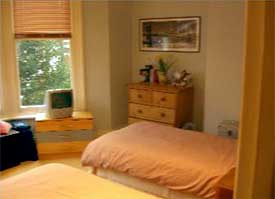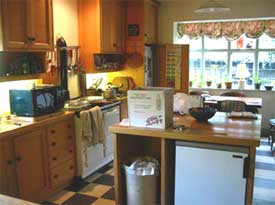 Details about homestays
Twin room with another AIFS Student
Shared bathroom and living space
Breakfast provided on weekdays
Kitchen access and space for groceries
Free WiFi
Approximately 45 minute commute from AIFS's Taylor House
---
Optional AIFS Tour of Scotland
Visit Loch Ness, follow in the footsteps of Braveheart, explore the beautiful Isle of Skye and much, much more. This will be a trip to remember, so don't miss out!!
Included in the price you get…
Professional bus tour with fantastically fun and knowledgeable local Scottish guide
Round-trip train fare from London to Edinburgh (Departs Thursday PM, returns Sunday PM)
3 nights accommodation in hostels (One night in Edinburgh, one near Loch Ness, one on the Isle of Skye)
Amazing sights, stunning scenery + hairy cooos!
Home-cooked group evening meals (Friday and Saturday)
Continental morning breakfasts
If you're planning to take a trip to Scotland, why not let AIFS take care of the arrangements for you? We use an Edinburgh based tour company who supply a nimble wee bus and superhuman tour guide who will add even more color — and plenty of unique Scottish humour — to a host of wonderful sights and scenery.
What they said about Haggis LAST YEAR…
"An absolute blast…I loved the Haggis Guides, they were fantastic and truly made my trip memorable. I've a new found passion for Scotland, and definitely recommend the tours to everyone."
"The tour guide was awesome- full of fab stories and shocking jokes! The scenery was breathtaking and the group was fantastic. Scotland will always be one of my favourite places now."
The price of this trip is $695